Heart of England NHS Trust patients (both inpatient and outpatient) are referred electronically using Concerto.
Choose "OPAT" from the "Requesting" tab within the patient's Concerto record. Choose "New Referral" and fill out the form – there are compulsory fields which must be entered before the form can be submitted.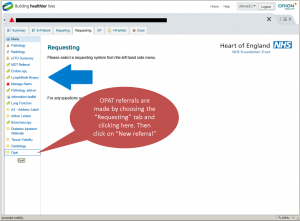 Once complete you MUST:
All patients – print off, complete and sign the relevant home IV antibiotic prescription from the link you will be shown at the end of the referral process.
Patients who live in Birmingham or Solihull – the form is sent electronically to the correct community team. However you must still FAX the prescription and phone to confirm receipt on the number provided at the end of the referral process.
Patients who do not live in Birmingham or Solihull (inc South Staffs) – unfortunately there is currently no automatic electronic link. The system will ask you to print off the PDF version of the form and fax to the relevant local community service along with a copy of the prescription form. You must also telephone them to confirm receipt.
In the event of a failure of the electronic referral system bleep 3112 in working hours, or choose "Concerto failure" from the Referral menu above.